– Up to 10% additional revenue
– Up to 2-5% higher margins
SB4 platform translates external supply chain economic and business data into better margins and revenues
No need for upfront investment
No commitments, no long integration processes
All external data already available for decision making
Objective calculation of value delivered
LINKS SB4 platform was developed in collaboration with the largest financial institutions – clients of LINKS Analytics to "pick the low hanging fruit" of data-driven decision-making.
SB4 consolidates thousands of external data items along the whole supply network of your company. Data items include client product prices and volumes, financial market data, including company earnings, commodity prices, macroeconomic data. Multiple machine learning algorithms then reliably forecast the current and future pricing environment for your products for up to six months ahead.
Thousands of pre-populated external data items with their relationship to the company's products and businesses
Machine Learning methods establish the ability of each data "agent" to impact changes in prices, capacity and volumes of your products and those of your clients, suppliers and competition.
A voting engine uses forecasts of multiple ML models and their accuracy to arrive at a "machine consensus". The final forecast is based on consolidating the advice of ALL data agents.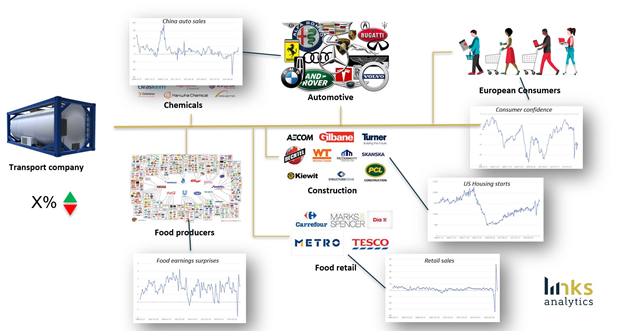 Request your
Commitment-free Trial
Please leave us your email and we will be in touch instantly with information on our pricing options range: from off-the-shelf cost-efficient subscription to additional in-depth research needs.